Business on Quadra Island
Welcome to the resource page for the Quadra Island Shop Local campaign. We're working with local businesses to build this initiative and look forward to seeing it grow and help our community continue to thrive.
As the name suggests, Shop Local, promotes the idea of spending your money close to home, in our own island communities. Studies show that for every dollar spent in a local economy 45¢ stays within the community instead of being siphoned off to some corporate shareholders. It's definitely a case of 'united we stand'.
The Quadra Island/Discovery Islands shop local campaign is a sort of open-source campaign. No one person or business is in charge and the idea is freely open for any and all to make of it what they need. The graphics and resources provided here have been created by the Discovery Islander but you're welcome to design and publish your own graphics, ideas and initiatives, the DI is just aiming to make it easier for those that need some ready-made resources.
your web site here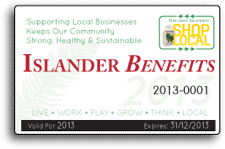 Islander Benefits is a local 'rewards' or 'loyalty' style program administered by the Discovery Islander, our local news magazine.
Subscribers to the DI receive an annual Islander Benefits card which entitles them to deals and discounts offered by participating island businesses.
Find out more about Islander Benefits by visiting the Islander Benefits home page. Here you'll find info on how to obtain your card, how to participate with your business and a list of local benefits that are available
Here is some artwork you can download and use on your advertising and promotions. If you're not sure which files to use contact your graphic designer and/or encourage them to visit this page. If you're looking for assistance with design projects, brochures, advertisements, posters, decals and the like we can help you with that, contact Philip Stone at: info@quadraisland.ca
If you'd like information on lisiting your business here, have a look at the details on the advertising page and follow the instructions there.